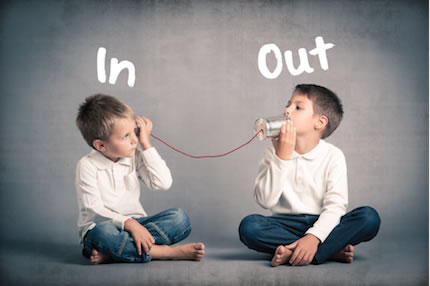 Our communicative method

Do you want to learn English in a short time having fun? Our communicative Abeschool IN&OUT® method teaches you English in a simple, direct, and effective way.

The Abeschool IN&OUT® method is a new approach to teaching English based on this simple concept: the more you practice your English, the faster your fluency and confidence will get. You'll work in small groups or individually with our certified English mother tongue teachers who will guide you through an easy and quick learning process focused on the language areas you wish to improve, whether they be personal or work-related. Don't worry! No more endless grammar lessons where at the end you can't even handle a simple conversation. Abeschool will give you everything you need to speak and understand modern English, whatever your entry level is.
In section IN you will improve your listening comprehension skills through:
Shadow Listening: new listening techniques to accurately understand spoken English using recordings of real conversations, online news, music, and movies.

Accent Comprehension: understanding the different English accents (e.g. UK vs. U.S.), fast and connected speech, and intonation patterns.

Word Power Enhancement: vocabulary enrichment by learning new compound words, synonyms, and collocations.
In section OUT you will improve your speaking skills through:
Effective communication: practical learning of oral and written communication techniques in: Telephone, E-mail, Presentation, Meeting, and Social Networks.

Conversation: free oral practice on current topics to get good command of your English.

Spoken Grammar: practical learning of the grammar used in spoken English.

Phrasal Verbs & Idioms: learning of phrasal verbs and idiomatic expressions through contextualized practice.

Accent Improvement: improvement of the English pronunciation through practical study of English phonetics.
Overall, our Abeschool IN&OUT® method is a powerful and comprehensive tool that allows you to speak and understand spoken English right from the start.
Questo sito utilizza cookie, per continuare la navigazione devi accettare i termini relativi. maggiori info
The cookie settings on this website are set to "allow cookies" to give you the best browsing experience possible. If you continue to use this website without changing your cookie settings or you click "Accept" below then you are consenting to this.